The volume of the device is considerable as the first thing to consider is whether the investment of space and money (about 150 Euros) makes sense for the fried foods we eat at home. Anyway, we must bear in mind that the air fryer in many ways functions as a hot air oven (actually it is that) so we can also get out of the conventional uses of a fryer with oil and use it, for example, baking bread or pastries.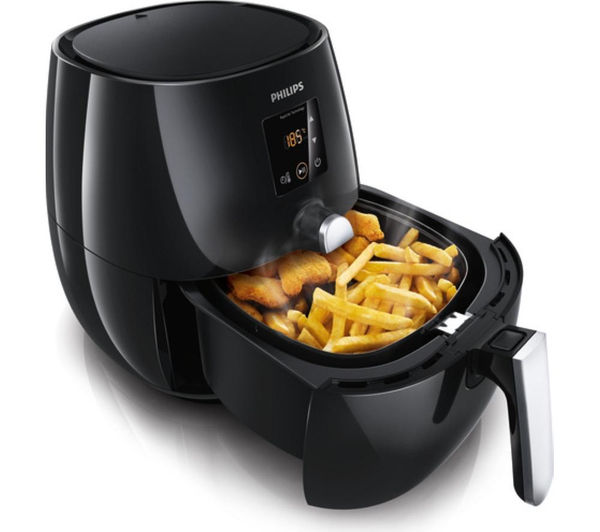 It occupies fairly and logically in regards to electricity consumption (1425 W). The good news is that there is no clear-an odor relief when frying and one of its best advantages is that it's pretty fast.
As indicated in the instructions and recipe book that accompanies the Philips air fryer, there are two tricks that we must respect if we want to get better results: impregnate good food with a little oil  (it is enough with very little oil, truth) and give it a good wiggle the bucket in the middle of the process to make food evenly.
What are the results?
The truth is that without being overly addicted to issue fried has pleasantly surprised us in many dishes. In general, the frozen products and are already prepared for frying (oil and incorporating in its batter) work perfectly. They are not as crisp as immersed in oil but makes up for cleaning.
The natural potatoes are also good, however with other foods, you will have to impregnate with a little oil. The croquettes are a bit more problematic because it is difficult to give a touch of oil.
The chicken wings are also great: crispy and well done in just 20 minutes. And more light to go releasing much fat, which is collected in the bottom of the grid, within the bowl itself.
Its use has no mystery: simply extract and load the tray, select the temperature (180 or 200 degrees in most cases) and time (15-20 minutes are usually sufficient). These two wheels and a pair of lamps to indicate operation or preheating are its unique controls.
The capacity of that bucket is a bit fair, considering that we are talking about a device that weighs 7 kilos. But if it comes to prepare small portions, we can cook two dishes simultaneously taking advantage of the space included. Another important fact: the two parts that make up the tray can be washed in the dishwasher.
Worth it?
If you eat fries only occasionally, you do not usually attack the frozen food section of the supermarket and, in general, you only give the fried food in the pan for important dates then it is no need to purchase a product like that though it is such a convenient machine.
And it is that if we have enough space for it then it is not a bad idea to give a chance to this Philips air fryer. If you still do hesitate, check out for Air fryer reviews on 1 CUP AWESOME to find out whether these specialties suit you or not.
Because of the popularity of air fryer nowadays in every kitchen, you can easily find air fryer recipes on the Internet, which helps you cook many delicious dishes for your family.